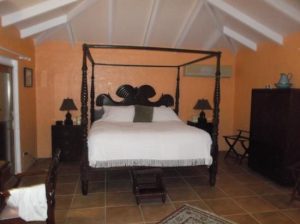 Well appointed with private bathrooms, king or queen size beds, air conditioners, ceiling fans, in-room safes, small refrigerator, telephones, coffee makers, clock radios.
All rates are based on SINGLE/DOUBLE occupancy.
10% USVI Hotel Tax NOT INCLUDED :
Cancellation Policy: No Deposit Required .
(1 night) Cancellation fee will be charged to your credit card ONLY IF cancellation is within 30 days of check-in date.
Off-peak
May 1 – Nov 30 Peak
Dec 1 – Apr 30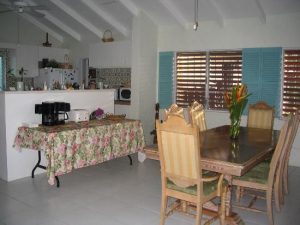 The Flamboyant
This room has style, it is Flamboyant. Very spacious with king-size bed, double wash basins, bathtub, kitchenette, private balcony, and a view of Christiansted harbor. $160/night – $200/night
The Periwinkle
The color of Periwinkle on the walls gives this room a soothing feeling. Room has king bed, private balcony with view of the Christiansted harbor. $150/night – $180/night
The Morning Glory
Spacious room with king size bed, and a glorious view of the Christiansted harbor. A private deck looking out to the hills and a "sugar mill" to the south/west. True Blue- –Morning Glory. $150/night – $180/night
The Ginger Thomas
Queen size four poster bed, room named after the flower of the Virgin Islands. $125/night – $150/night
The Frangipani
Room with queen-size bed and named after the fragrant Frangipani. $110/night – $125/night